Before and After of myself | "makeup without makeup" is a great option for every day.
2020… I don't know about you, but I'm happy to see the back of this year. It's been a difficult one on so many levels… the understatement of the century, right? 
An unprecedented global virus that has seen us in lockdown and brought innumerable stresses and strains has taken its toll on us all, not least on our skin. As the year draws to a close, it's time to take action and create better days for 2021. Let's start with how we look and feel.
So, what's new in the makeup world for 2021 specially for us the over 40s?  It's all about striking that perfect balance between matte and dewy skin. We can't achieve this unless we're hydrated, so grab a glass of water with a slice of lemon and read on….
In this blog I share five fantastic makeup trends to kick start the summer season and get you looking and feeling fabulous, whether you're 40 or 90 years of age.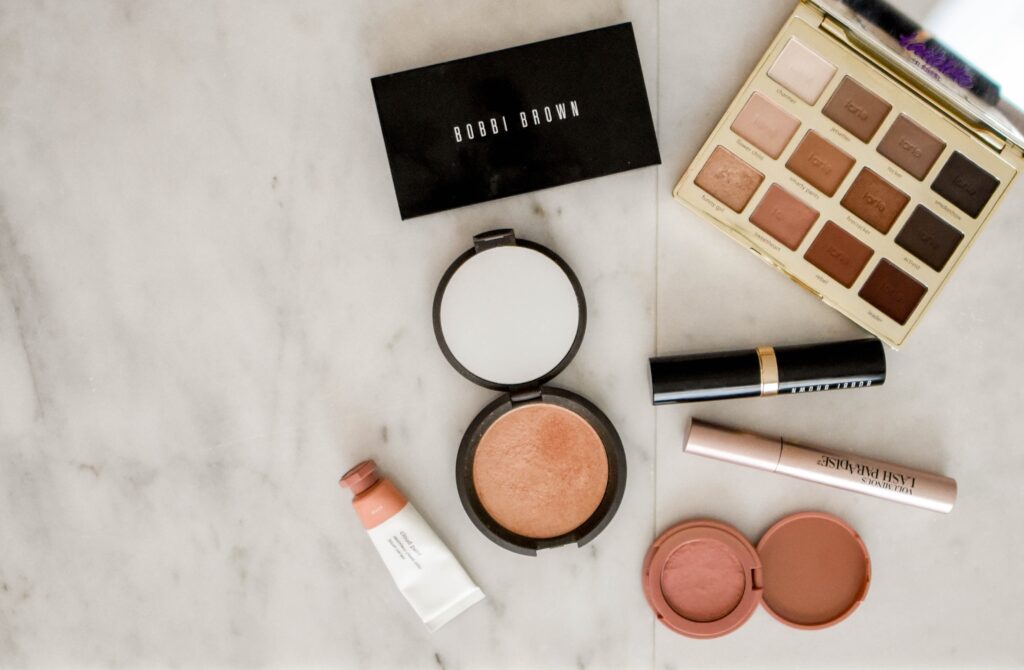 Photo by Element5 Digital on Unsplash
1. Face makeup – less is more
Summer has arrived here in Aotearoa. As we all prepare for a warm summer of BBQs and beach days, it's a good idea to delve into your make up bag to ensure it's as summer-ready as you are!
The 'natural' look takes centre stage this season. So, it's time to ditch the heavy foundation and opt for a lighter coverage; a tinted moisturiser or a CC cream are great options as they subtlety enhance your skin and allow it to breathe in hotter days. Some well-placed 'glow' in the form of a shimmery powder will play a big role in achieving a 'natural' sun-kissed look.
Less is most definitely more in summer, particularly for us ladies over the age of 40. Don't just blindly follow a well-rehearsed makeup regime. I encourage you to take a good look in the mirror every morning and if you feel you're having a good skin day, just add concealer under the eyes or to any problematic areas and you're ready to go!
2. Eyebrows – keeping it real
Great news for anyone who's struggled to create those characteristic sharp, well-defined eyebrows – the natural look is back! So, if your eyebrows are thin, sparse or non-existent, don't worry! Natural eyebrows are on-trend for 2021.
Add your favourite medium- or dark-brown brow pencil and a tinted brow mascara to your entire eyebrow and embrace that natural, seamless look. Make sure you choose a colour that matches your hair or go a shade lighter. If your eyebrows are too dark it can make your face look uneven and you can appear older than you are. Something all of us mature ladies are trying to avoid, right?
3.

Cheeks – are you blushing?
Applying a little blush to your cheeks is a must to add a dash of colour to your face. Rose-coloured blush is the colour of the summer season and I have to say that I love it.
For a natural look, make sure your blush is nicely blended and don't leave an obvious colour line. Cream or liquid blushes or cheek tints add hydration to drier skin and are perfect for us more mature ladies. This type of blush can be nicely blended with your fingers, making it a doddle for anyone to do. For a sun-kissed look, add a little blush across the bridge and tip of your nose.
I'm so excited to announce that golden eyeshadow will be the trend for 2021. This is great news for those with smaller eyes as golden eyeshadow makes the eyes appear wider. For minimum effort and maximum result, apply it all over your eyelids.
Choose a satin eyeshadow over a shimmery or glittery one to avoid accentuating any fine lines around the eyes. Complete the eyes with a good coat – or two – of mascara and you're done. Colourful mascara will make a come-back too! So if you feel like playing around and having some fun with your eye makeup, go for it.
5. Lips – au naturel
Keep your lips on trend the easy way by following the natural look. Choose natural-coloured lip balms with just a hint of colour; rose or barely-there balms work well.
Lip balms that can easily be applied with your finger work best and provide that natural coverage you're looking for.
Whichever balm you choose, it should keep your lips hydrated all summer. Choose one with an SPF for extra protection from the sun's rays.
So, what's the key takeaway from this blog? Keep it real and keep it natural. Together we can embrace the new season feeling positive and confident to take on whatever 2021 has in store. For more expert makeup tips and trends for over 40s, like me on Facebook or follow me on Instagram. I look forward to sharing my passion for makeup with you. Jess x 
book a lesson with me